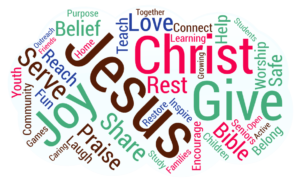 Our Mission: Follow Jesus. Make a Difference.
The purpose of a Mission Statement is to provide a clear and concise understanding of what an organization believes. St. Timothy's mission is: Follow Jesus. Make a difference.
These two statements describe the mission of St. Timothy. We are a people called to follow Jesus.
We want to follow Him into our communities as we share Him with our neighbors over a meal, or in our workplace. We want to follow His leading as we are sent on mission trips in our city and country.
We want to follow Him to the ends of the earth to share His life and love with those who have never experienced it. We want to follow Jesus because it is through Him, our gracious God the Father, and the power of the Holy Spirit that we make a difference!
Our Vision:
At St. Timothy Lutheran Church we seek to be faithful to our God, Father, Son, and Holy Spirit and His call on our lives. Our mission at St. Timothy is to "Follow Jesus and Make a Difference." While there is not specific blueprint of how to do this, we know that we have all been impacted and changed by the incredible Love of Jesus Christ in our lives and we want to share that with everyone.
Ephesians 3:16-21 says, I pray that out of His glorious riches He may strengthen you with power through His Spirit in your inner being, 17 so that Christ may dwell in your hearts through faith. And I pray that you, being rooted and established in love, 18 may have power, together with all the Lord's holy people, to grasp how wide and long and high and deep is the love of Christ, 19 and to know this love that surpasses knowledge—that you may be filled to the measure of all the fullness of God. 20 Now to Him who is able to do immeasurably more than all we ask or imagine, according to His power that is at work within us, 21 to Him be glory in the church and in Christ Jesus throughout all generations, for ever and ever! Amen.
As we carry out our mission, we want all people to know and experience how wide and long and high and deep is the love of Christ. For this reason, we believe that as we Follow Jesus and Make a difference, we want to see how He can take us Higher, Deeper, Wider, and Longer.
Higher (Worship)
To truly follow Jesus, we must take our eyes off of ourselves and the world around us and fix them on Jesus as we seek to know His heart and will for our lives and this world. We do this through worship where we connect with God. Worship leads us into the presence of God and focuses our hearts and eyes on Him. Worship is the foundation of what we do as we seek to praise God and be filled by Him to carry out our mission.
1 Chronicles 16:23-31, Romans 12:1-2
Deeper (Relationships with God and others)
Going deeper means putting God's Word into practice. God created us to live in community with each other. Because of this we seek to follow Jesus deeper and connect with each other, as we gather as the body of Christ and seek to strengthen our relationship with God. We seek to provide opportunities for people of all ages to connect with each other on a regular basis. This is done through children's ministry, youth ministry, Sunday school, LIFE groups, fellowship activities, preschool, and much more. Going deeper means living life together and loving each other as Christ has loved us.
Romans 12:10, John 13:35
Wider (Reaching the Lost)
Jesus has also equipped us for a specific mission to go and make disciples of all nations. (Matthew 28:18-20) To carry out this mission we believe that we need to follow Jesus wider connecting with our community and world. Sharing the Good News of Jesus Christ with our community. Going wider means that we are seeking to intentionally bring the Gospel to our family, friends, neighbors, co-workers and to the world. We want to make an impact in our community and world that lasts. To accomplish this, we will seek to be a presence in our community and our world for Jesus Christ. Through local and international missions, service opportunities and volunteering in our community we will have the opportunity to touch the lives of others with the love of Jesus.
Matthew 28:19-20, Mark 16:15
Longer (Eternal Perspective)
As we seek to Follow Jesus and Make a Difference, we do it with an eternal perspective. Because of the death and resurrection of Jesus, He shares with us His victory and promises us that all who believe in Him will have eternal life. This is the greatest gift we could ever receive, and we want to be a part of connecting with Jesus and others for eternity. We want to be a part of Gods will for all people to come to the knowledge of Jesus Christ as their Savior and share in paradise with Him.
John 3:16. Acts, 4:12, 1 Timothy 2:4
Follow Jesus. Make a difference.
DEEPER
Connect with each other
WIDER
Connect with our community and world
LONGER
Connect for eternity
The Bible and Salvation
We teach and respond to the love of God. We accept and preach the Bible-based teachings of Martin Luther that inspired the reformation of the Christian Church in the 16th century. The teaching of Luther and the reformers can be summarized in three phrases:
Grace alone, Faith alone, Scripture alone.
We are a member congregation of the Lutheran Church Missouri Synod
We are located in NW Houston near the intersection of FM 1960 and 249 (Tomball Parkway) in the Willowbrook area.
From 1960 going EAST, go NORTH on the 249 access road. Turn RIGHT on Hargrave Road immediately past Willowbrook Methodist Hospital and go EAST 1 mile.
From 1960 going WEST, turn RIGHT on Cutten Road and then turn LEFT on Hargrave Road and go WEST about one quarter mile.
St. Timothy Lutheran Church
14225 Hargrave Rd. Houston, TX 77070
281-469-2457
Worship Times:
8:00 AM – Traditional Worship in the Sanctuary
10:45 AM – Contemporary Worship in Life Center
Our History: Learn our history in a publication created for our 40th anniversary in 2013.