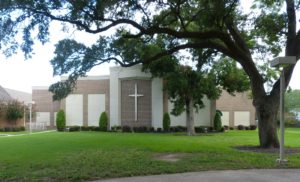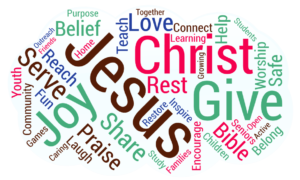 Our Mission: Follow Jesus. Make a Difference.
The purpose of a Mission Statement is to provide a clear and concise understanding of what an organization believes. As part of the strategic planning for our future, the staff and church leadership has prayerfully decided to clarify the Mission Statement of St. Timothy to simply be: Follow Jesus. Make a difference.
These two statements describe the mission of St. Timothy. We are a people called to follow Jesus. We want to follow Him into our communities as we share Him with our neighbors over a meal, or in our workplace. We want to follow His leading as we are sent on mission trips in our city and country. We want to follow Him to the ends of the earth to share His life and love with those who have never experienced it. We want to follow Jesus because it is through Him, our gracious God the Father, and the power of the Holy Spirit that we make a difference!

Our previous Mission remains true. This change is intended to clarify what a "Biblical community constantly seeking to be more like Jesus" looks like in our revised Vision Statement. Over the coming weeks we will explore in depth what our Vision Statement
looks like and how it specifically applies to you and our community.
We envision making and equipping disciples of all ages and races with the transforming love and power of Jesus, empowered by the Holy Spirit. Mark 1:17; Matthew 28:18-20


We envision prayer as the primary focus to accomplish God's purposes in our plans, hopes and dreams. Philippians 4: 6-7; Colossians 4:2

We envision St. Timothy making a difference in our communities, our nation, our world. We will intentionally build relationships with friends, family and neighbors and share Jesus with them so that people's lives are changed and Jesus is honored and glorified. Matthew 9: 35-38; Colossians 2: 4-6
We are missionaries to our world and servants to our community.

We are empowered by the Spirit to worship, study, pray and grow.

We intentionally work to grow disciples of Jesus Christ.

We strive to love unconditionally.

We care about the physical and spiritual needs of people, inside and outside the church.
The Bible and Salvation
We teach and respond to the love of God. We accept and preach the Bible-based teachings of Martin Luther that inspired the reformation of the Christian Church in the 16th century. The teaching of Luther and the reformers can be summarized in three phrases:
Grace alone, Faith alone, Scripture alone.
God The Father, The Son & The Holy Spirit
The Triune God: the Father, creator of all that exists; Jesus Christ, the Son, who became human to suffer and die for the sins of all human beings and to rise to life again in the ultimate victory over death and Satan; and the Holy Spirit, who creates faith through God's Word and Sacraments. The three persons of the Trinity are coequal and coeternal, one God.
Directions
We are located in NW Houston near the intersection of FM1960 and 249 (Tomball Parkway) in the Willowbrook area.
From 1960 going EAST, go NORTH on the 249 access road. Turn RIGHT on Hargrave Road immediately past Willowbrook Methodist Hospital and go EAST 1 mile.
From 1960 going WEST, turn RIGHT on Cutten Road and then turn LEFT on Hargrave Road and go WEST about one quarter mile.
St. Timothy Lutheran Church
14225 Hargrave Rd. | Houston, TX | 77070
281-469-2457
ContactUs@STLHouston.org
8:00 AM – Traditional Worship
10:45 AM – Contemporary Worship