Access ACS is for our members who wish to track their giving statements online or use our online membership directory. Login is required. Contact the church office to get your login if you do not have one already.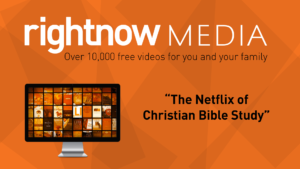 RightNow Media is an online customizable resource for churches to equip, train and inspire people to live out their faith. Their site has over 18,000 videos for kids, youth, and adults. It's the "Netflix" of online Bible Studies for every age. Login is required. Each member of St. Timothy gets a log in for RightNow Media, but guests are welcome to join as well. Click the photo above to start your free account. If you have problems setting up an account, please contact Laura Shivok
.
Serving the Community
In 2010, St. Timothy committed to "Do Something" by providing 25,000 service hours to our community and the world. Each year we have raised our goal and have met and exceeded our commitment each time. Once again we challenge ourselves to "Do More!" and now even more to "MAKE A DIFFERENCE" in our community and beyond.
Doing something through service hours is about taking action that makes a difference – through the love of Jesus Christ. Community service is any act that has an impact on the people in our community and the world for Christ. It can take many different forms, whether it's participating in a ministry at St. Timothy, volunteering through a community organization, helping with Sunday Services, going on a mission trip, or simply giving your neighbor a hand.