Each child is precious to God; we consider it our responsibility to provide
each child a loving, positive and safe environment.
The whole child should be nurtured, helping him or her to grow spiritually,
intellectually, physically, socially, and emotionally.
Learning should be fun, with hands-on experiences that help develop in each child
the belief that he or she is valued as a child of God.
All children should have the opportunity to learn and develop
at their own rate and in their own way.
_____________________________________________________________________________
You can reach us at 281-469-2913 or email Kim Jurischk, our Director,
at
Kim@STLHouston.org
_____________________________________________________________________________
Scroll down for information on our summer school-aged camps
Our Preschool and Infant Care is a quality Christian facility. The Bright Beginners' program offers an age appropriate, center -based curriculum for your children.
Each child will experience individualized , hands-on learning with a focus on social skills that will prepare him/her for kindergarten.
If after browsing thru our website you would like to request more information, schedule a tour of our facilities, or just have any questions answered, click here to contact us. We will get back with you as soon as possible.
We are very excited that you have visited the Bright Beginner Preschool website! If you are interested in learning more about our year-round programs, please contact us however best suites you either via our online request form or by calling 281-469-2913
Phone: 281-469-2913

14225 Hargrave Rd. | Houston, TX 77070
Preschool Director: Kim Jurischk
Assistant Director: Alma Wood
Afternoon Supervisor: Staci McMahon

Infant Care Supervisor: Deanna Washburn
We are licensed by the Texas Department
of Family and Protective Services.
We accept online tuition or fee payments. Click here to make a secure online payment.
TEACHERS NEEDED!
Adults who love working with children are welcome to apply.
Positions available are:
Afternoon Teachers


Summer teachers and helpers for our school-aged program
Call Kim at 281-469-2913 to set up an interview today!
February 5th: In-House Field Trip- Museum of Science; Rainforest Bugs 9:30
February 14th: Valentine's Day Class Parties February 18th: No M/W/F Classes February 22nd: Go Texan Day
March 1st: Art Auction and Spaghetti Dinner at 6:00 pm
March 11th-15th: Spring Break- No M/W/F or T/TH Classes
March 24th: Children's Sunday- Children will sing during the 10:45 Service
April 8-12th: Book Fair April 14th: Spring Carnival 4:00-6:00 April 18th: Easter Egg Hunt April 19th: Good Friday- School Closed
April 23rd: Picture Day for I1, I2, I3, I8, I19, T1, T3 and all siblings
April 24th: Picture Day for T5, P2, P4, P6, P7, P9, P11 and Graduation Pictures
May 10th: Muffins with Mom 6:30-9:00 May 23rd: Closing Program at 6:00 May 27th: Memorial Day- Closed August 8th-9th: Closed for Teacher In-Service
Kim Jurischk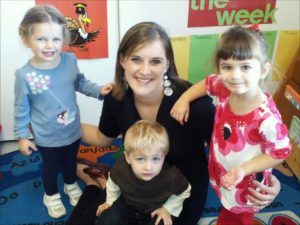 Kim is the Director of Bright Beginners Preschool. She is a graduate of Texas A&M and has been in the early childhood field for fifteen years. Kim warmly welcomes all children from 6 weeks to pre-kindergarten into our Preschool and Infant Care programs.
Bright Beginners Preschool and Infant Care is a ministry of St. Timothy Lutheran Church.
2018 Summer camps information – look for 2019 information in late February