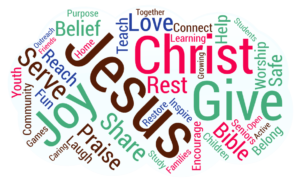 Our Mission: Follow Jesus. Make a Difference.
The purpose of a Mission Statement is to provide a clear and concise understanding of what an organization believes. St. Timothy's mission is: Follow Jesus. Make a difference.
These two statements describe the mission of St. Timothy. We are a people called to follow Jesus.
We want to follow Him into our communities as we share Him with our neighbors over a meal, or in our workplace. We want to follow His leading as we are sent on mission trips in our city and country.
We want to follow Him to the ends of the earth to share His life and love with those who have never experienced it. We want to follow Jesus because it is through Him, our gracious God the Father, and the power of the Holy Spirit that we make a difference!
Our Vision:
We envision making and equipping disciples of all ages and races with the transforming love and power of Jesus, empowered by the Holy Spirit. Mark 1:17; Matthew 28:18-20

We envision prayer as the primary focus to accomplish God's purposes in our plans, hopes and dreams. Philippians 4:6-7; Colossians 4:2

We envision St. Timothy making a difference in our communities, our nation, our world. We will intentionally build relationships with friends, family and neighbors and share Jesus with them so that people's lives are changed and Jesus is honored and glorified. Matthew 9:35-38; Colossians 2:4-6

We envision this church filled with children laughing, learning, playing, loving, and growing together. Mark 10:13-16

We envision our campus as the "gathering place" for our community. Matthew 5:14-16

We envision as we grow, we will maintain our culture of safety and acceptance. Acts 2:44

We envision a dynamic ministry to children, youth and Bright Beginners in a state of the art facility that allows us to teach and equip them to follow Jesus and make a difference. Proverbs 22:6; Psalm 78:5-6

We envision people of all ages following Jesus in Christ-centered, joy-filled and Spirit-led worship with Him at the heart of their worship life in a state-of-the-art worship center. Psalm 150; Colossians 3:16-17

We envision all our members in small groups where friendships are built and faith is grown and strengthened. Acts 2:42-47; John 17:20-23
Our Values
We are missionaries to our world and servants to our community.

We are empowered by the Spirit to worship, study, pray and grow.

We intentionally work to grow disciples of Jesus Christ.

We care about the physical and spiritual needs of people


inside and outside the church.
The Bible and Salvation
We teach and respond to the love of God. We accept and preach the Bible-based teachings of Martin Luther that inspired the reformation of the Christian Church in the 16th century. The teaching of Luther and the reformers can be summarized in three phrases:
Grace alone, Faith alone, Scripture alone.
We are a member congregation of the Lutheran Church Missouri Synod
We are located in NW Houston near the intersection of FM 1960 and 249 (Tomball Parkway) in the Willowbrook area.
From 1960 going EAST, go NORTH on the 249 access road. Turn RIGHT on Hargrave Road immediately past Willowbrook Methodist Hospital and go EAST 1 mile.
From 1960 going WEST, turn RIGHT on Cutten Road and then turn LEFT on Hargrave Road and go WEST about one quarter mile.
St. Timothy Lutheran Church
14225 Hargrave Rd. Houston, TX 77070
281-469-2457
Worship Times:
8:00 AM – Traditional Worship in the Sanctuary
10:45 AM – Contemporary Worship in Life Center
Our History: Learn our history in a publication created for our 40th anniversary in 2013.