Living Water International
exists to demonstrate the love of God by helping communities acquire desperately needed clean water, and to experience
"living water"
the gospel of Jesus Christ which alone satisfies the deepest thirst
Everything begins with water. It's the foundation for all other levels of development. Communities are trapped in debilitating poverty because they constantly suffer from water-related diseases and parasites, and/or because they spend long stretches of their time carrying water over long distances. That means—for the millions of thirsty people throughout the developing world, safe water can ultimately transform: health, sanitation and hygiene, social and economic issues, livelihoods and so much more.
Living Water is a Houston-based organization that digs water wells, provides health and hygiene information, and shares the love of Jesus worldwide. It all began in 1990, when a group from Houston, Texas, traveled to Kenya and saw the desperate need for clean drinking water.
They returned to Houston and
founded a 501(c)3 non-profit. The fledgling organization equipped and trained a team of Kenyan drillers, and LWI Kenya began operations the next year under the direction of a national board.
That pattern continues today; LW trains, consults, and equips local people to implement solutions in their own communities in the countries where they work.
Since 2001, Living Water Intl. has sent hundreds of teams each year
to give the gift of safe water and share living water—the gospel of Jesus Christ—with countries impacted by the global water crisis.
You are invited to be a part of this experience in creating generational change in Central America, the Caribbean, and Africa!
On a Living Water Trip, you'll witness the transformational power of water firsthand as you drill or repair a water well, teach sanitation and hygiene lessons, and share God's love with the community. You'll form friendships as you serve alongside our in-country staff and community members to provide water, for life, in Jesus' name!
It's hard to know which lives are changed more—those "serving" or those "being served."
St. Timothy typically supports two Living Water mission teams each year and completely sponsor and construct the water well project during the week long trip.
"How will you bring water and living water to the world and your community?"
St. Timothy member Bob Sawicki works closely with Living Water International and is happy to help answer any questions you have
or connect you with the right people at Living Water.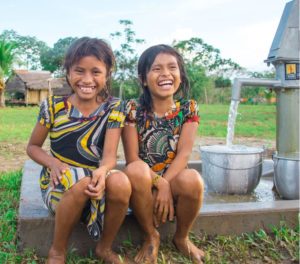 Going on a mission trip? Go HERE for more info.