of each month at 6:30 pm, men are invited to Swanny's Grill to
enjoy
food and beverage and if hit a few golf balls. If you are interested in joining this group, just stop on by. Swanny's is located a6 6224 Theall Rd.

Men's Bible Study
Men's Bible Study is offered on Saturday mornings at 7:00 am. A team of men lead a Bible Study for the men of
St. Timothy
in the Life Center every Thursday
Pick-up Basketball Game? Men 30+ are invited to join a fun game of hoops. We get started at 7:30 PM in the Life Center and finish up about 9:30. Come play!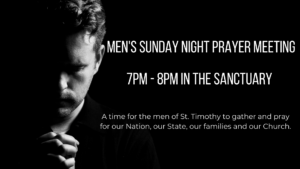 Annual Events for Men's Ministry include:
Night at Minute Maid Ballpark for an Astros Game

Annual Spring Golf Tournament

Serving at our Advent by Candlelight Event

Various service projects around our community thru the year

Paintball and cookout event

Firearm safety and shooting practice event
Check this page for details on events regularly!